While I'm putting together my plans for self-publishing my adult fiction novels, I thought I'd rebrand The Bone House, a short horror story I wrote a couple of years ago. It's previously been available under the name Barry John Hutchison, so all I've really done is removed the 'ohn' part from the cover and added a bit of end-matter to the story pointing towards this here very website.
Here comes the blurb I've used on Amazon. As with everything on the site, it's an experiment, and I'll probably tweak it a bit to try to make it stronger over the coming weeks/months/years/eternity.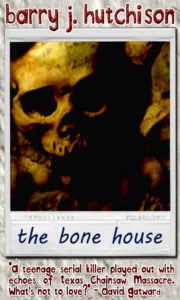 The Bone House
A chilling short story from award-winning author, Barry J. Hutchison.
School has broken up and summer is finally here. Fifteen-year-old Laura has plans for six whole weeks of Skyrim and at least one Batman DVD marathon. But when her neighbour and long-time crush, Cethan, takes her into the woods to show her something he has found there, both their lives take a turn for the terrifying…
Dare you visit the Bone House?
About the Author
Barry J. Hutchison (writing as Barry Hutchison) is the author of several novels for children and teens, including the award-winning Invisible Fiends horror series. THE BONE HOUSE is the first in a series of short stories published exclusively in ebook format.
Reviews of THE BONE HOUSE:
"If there's one thing teen fiction needs right now, it's an injection of something fresh. And by fresh, I mean sliced open, raw and bleeding. Barry's Bone House is exactly that: a teenage serial killer played out with echoes of Texas Chainsaw Massacre. What's not to love?" – David Gatward, author of DOOM RIDER and THE DEAD series.
"The Bone House takes horror and plunges it into the cold depths of insanity. Read this, and get ready to sleep with the lights on." – Tommy Donbavand, author of SCREAM STREET
Feeling brave? Get The Bone House now.