Following on from yesterday's post, today I'm introducing you to another great new author I've discovered. Cris Pasqueralle is a former New York police officer, who now writes magical fantasy adventure novels for children and young adults.
It was while reading the Harry Potter books with his two daughters that Cris, a lifelong reader, was inspired to try writing his own series, and he was soon busy writing away on the first book in his Destiny Trilogy, Destiny Revealed. Here's the blurb from Amazon: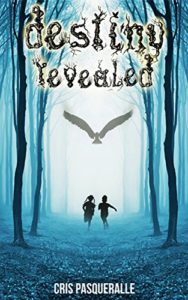 On the day of their thirteenth birthdays, twins Jack and Maddie Austin receive a special gift from their wizard relative Uncle Benny: two necklaces, along with a note shrouded in secrecy. The celebration is interrupted by three intruders, led by the evil being Tardon, who kidnaps the twins' parents.
Uncle Benny manages to escape with the twins and later, reveals the truth behind both their gifts and identities: that Jack and Maddie are powerful wizards from the magical realm. Now, faced with the decision of a lifetime, they must return to that realm, rescue their parents and save all the realms from imminent doom.
Sounds good, right? And with over fifty five-star reviews on Amazon, you should definitely think about picking this one up.
"But wait!" I hear you say. "I want more than one book in the trilogy to be available before I start reading!"
I hear you. There's nothing worse than picking up the first book in a series, getting hooked, then having to wait forever for the next book to come out.
BUT HAVE NO FEAR! Book two, Paths of Destiny, is already available! Don't believe me? Go see for yourself.
Want to find out more about Cris? Go check out his Facebook page.