I'm now well on the way to finishing the fifth Space Team book, and rapidly closing on the sixth book in the series. I've got a few ideas as to what I'm going to write next, but it'd be great to hear what YOU think I should do. Which of the possibilities below would you be most interested in reading? (If I go for option 1 or 2, I will still almost certainly do more Space Team at some point, because I love those guys so much it hurts.)
Option 1: Gangrene
This would be a completely new 'Urban Fantasy' series, featuring the main character in a comic book series I started writing a few years ago, but which ultimately never went anywhere. It would be similar in style and tone to Space Team (ie funny), but focusing on city-dwelling supernatural creatures, rather than outer space and aliens and stuff. The image below was from the comic book version, and here's a vague blurb for what would be the first novel: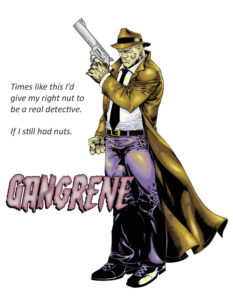 After being shot and killed by his partner, detective Dan Green was somewhat surprised to wake up in a shallow grave, with no heartbeat and an irritating craving for human flesh. After adopting the nickname, 'Gangrene', he now works as a private detective, taking on all those cases too dangerous – or too damn weird – to leave to the cops.
When an 18 year old girl begins manifesting demonic powers and accidentally slays the city's vampire queen, she comes to Gangrene for help. The vampires have declared war on the girl (and her tiny devil dog), but Gangrene suspects a set-up and must keep her safe, prove her innocence and nail the real culprit before the Horsemen – four ancient vampire assassins – can swoop in and kill her off.
If only she wasn't such a pain in the ass…
Option 2: Space Team Spin-Off
Not sure what this would be yet, but some sort of spin-off set within the Space Team Universe featuring either entirely new characters, or possibly focusing on characters who have briefly appeared in the series so far. Possibly Konto Garr, the (semi) retired bounty hunter from the story I've contributed to this anthology.
Option 3: Cut the shizz, Hutchison. Just give us more Space Team
Alternatively, maybe I should just shut my fonking mouth about all this new stuff and just continue producing Space Team stories until I eventually succumb to old age.
What do you think? Vote in the poll, and leave me a comment below!
Loading ...