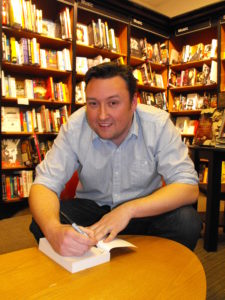 For as long as I can remember, I've wanted to be a writer. I was around 9 when I discovered that 'author' was an actual job you could do, and pretty much every day since then I've dreamed about seeing my work in print.
Back in 2010, that dream came true when HarperCollins Children's Books published my Invisible Fiends horror series about a boy whose childhood imaginary friend comes back when he's a teenager and tries to kill him. It went on to win some prizes, sell to some foreign countries, and marked the start of my professional writing career.
Fast forward to today and I've had somewhere around 70 books published, all aimed at children or teenagers. I've written for publishers such as Penguin Random House, Nosy Crow, Egmont, Stripes and Little, Brown. I've written 30+ episodes of children's comedy for CITV, and regularly contribute to comics like The Beano.
I'm lucky enough to be invited to speak at schools and festivals all over the UK and beyond, sharing my love of reading and writing with children and adults alike.
It has been a privilege to be able to tell stories for a living for the past few years, and while writing for children and teens will likely remain my first love, I've had a growing itch to start writing some stories for grown-ups for the past couple of years. I've decided to start writing some books for adults, and have chosen to go down the self-publishing route, for reasons I'll go into later in the blog.
So that's me, basically. I like making stuff up and writing it down. When I'm not doing that I'm playing with my kids, annoying my wife, walking my dog, or staring longingly at my Xbox One in the hope that someday – someday – I'll find the time to play it.
Check out my current list of titles on Amazon.