Space Team is the first in a series of comedy sci-fi novels about a crew of criminals misfits just trying to make a living and occasionally saving the galaxy from destruction.
Space Team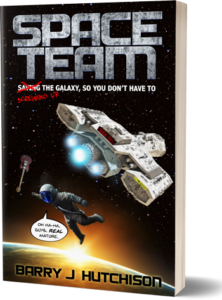 When small-time con man, Cal Carver, is imprisoned and forced to share a cell with a cannibalistic serial killer, he thinks his day can't possibly get any worse. He is wrong. It's only when two-thirds of the human race is wiped out and Cal is abducted by aliens that his day really starts to go downhill.
Whisked across the galaxy, Cal is thrown into a team of some of the sector's most notorious villains and scumbags. Their mission should be simple enough, but as one screw-up leads to another, they find themselves in a frantic battle to save an entire alien civilization – and its god – from total annihilation.
A fast-paced, laugh-out-loud space adventure from the author the Independent calls "the new Terry Pratchett."
Buy Space Team now, or watch the trailer below.
Want to read the first three chapters of Space Team right now? Well you're in luck – get an exclusive preview here!