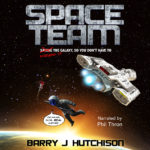 Hello! Just a quick update today, as I'm working hard to get Space Team book 4 finished, while simultaneously working on the second in a new series of kids books which come out later this year.
In case you're not aware, the first Space Team book is now available in audio format from Audible. The narrator – the amazing Phil Thron – brings a whole new life to the book with his interpretation of the characters, to the extent that even I was laughing my head off, and I've heard all the jokes before. If that's not testimony to Phil's skills, I don't know what is.
The good news is, if you're not currently an Audible member, you can get Space Team free as part of your 30 day trial. Just cancel before the trail expires and, voila, the book is yours without having to pay a single penny. Good, huh?
If you're in the US, get the audiobook here or click here if you're in the UK.